Tired of your slipcovers constantly slipping? Say hello to twist pins! In this guide, we delve into the world of twist pins and how those unassuming gadgets can transform your slipcover game.

Explore common slipcover issues and discover how twist pins can secure them in style. Get help selecting the right twist pins for your fabric and decor.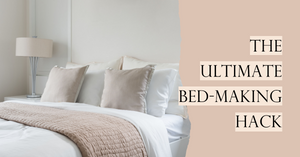 If you're tired of constantly readjusting your sheets and duvet cover every morning, we've got the ultimate bed-making hack for you: triple sheeting with duvet pins. This ingenious technique combines the practicality of triple sheeting with the elegance and functionality of duvet pins, resulting in a perfectly made bed that stays immaculate all day long. Say goodbye to messy sheets and hello to a luxurious, hotel-like bed every time you step into your bedroom. Read on to discover how to achieve this ultimate bed-making hack and transform your sleep sanctuary.