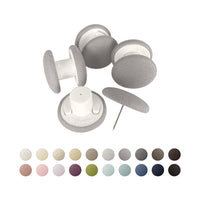 Say goodbye to shifting comforters
Keep your comforter from shifting, so you can get a better night's rest! Primpins newest duvet pins feature an enhanced locking mechanism for our most secure fastener yet.
Simply attach one Primpin to each corner of your bedding, to keep your duvet insert from moving and bunching inside the cover.
SHOP DUVET PINS
Keep covers in place
Primpins upholstery pins are an easy and beautiful solution for holding bed skirts, securing antimacassar fabrics, and repairing saggy car headliners.
Keep armrest, backrest, and headrest covers in place on sofas and chairs, or attach a new cover on your couch or bed headboard.
SHOP UPHOLSTERY PINS